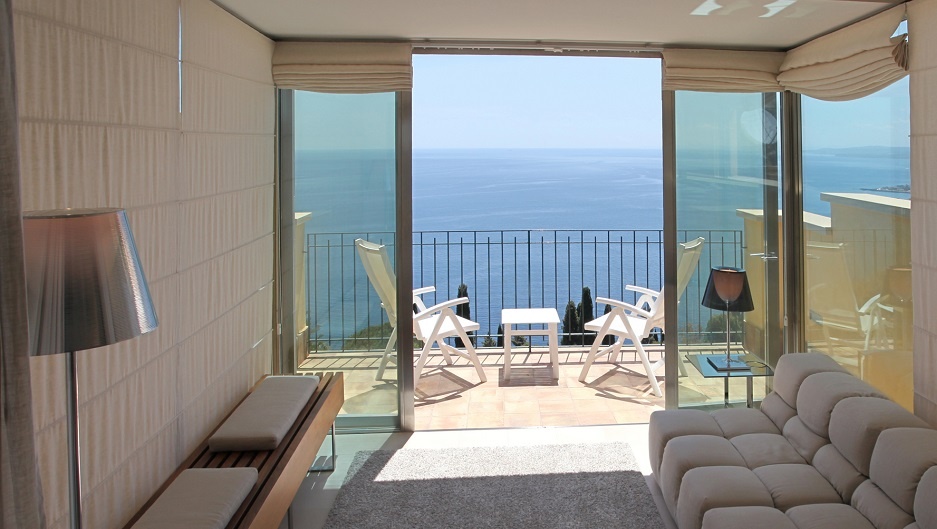 Deluxe studio
Most of our external accommodation, is very nearby, on the opposite side of the same road at just a very short distance from the hotel, & consists of different types of independent accommodation, situated in our own private buildings.
Our de-luxe Studio Apartments are some 60 metres from the traditional hotel building, and nearby, too, are Taormina's intriguing the Botanic Gardens and also the ancient Greek-Roman Theatre.
Just as in Hotel Villa Belvedere, itself, in all our external accommodation, guests will find fittings and furnishings that are well up to a four-star standard.
The Studio Apartments are designer-planned on split level and are also very near to the town centre. They are designed ideally for a couple, as there is a very comfortable, king size double bed (cm 180 x cm 200), but on request, the very large and very comfortable divan in the "day area", can also be prepared as a bed for a third person.
"Successful architecture has an immense influence on the psychological wellbeing of those who find themselves in a pleasingly proportioned room, flooded with light, which sets the scene for contentment - and if there is a magnificent view of the sea, the effect is simply heavenly." Angelika Taschen.
Ideal for leisure as well as for business or study trips, this accommodation is perfect for guests who prefer a "total privacy" holiday in elegant surroundings with panoramic balconies and glorious views of the Mediterranean Sea and Mount Etna.